Cushing Cottage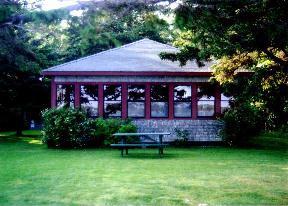 Just 50 feet from the water's edge and sitting on its own point of land with 200 feet of frontage, this quintessential Maine cottage features a panoramic view of the water, of sunrises, and of the moon reflecting on the water. Built in the 1930s, this 2 bedroom (queen and twin beds) retreat has a well- equipped eat-in kitchen, dining room, bathroom with shower, and glassed in sunporch which spans the entire front and overlooks the water.
The cottage is completely furnished with linens, cooking utensils, charcoal grill, lobster cooker, telephone, satellite tv, dvd player, and croquet set and picnic table. Please, no pets in this non-smoking cottage. A woodstove or the optional monitor heater warms the cottage on those crisp mornings or evenings while brisk breezes off the water cool the heat of the day. As guests relax in the hammock and listen to the waves beat against the shore, they can scan the water to see a seal swim by or watch lobstermen haul their traps.
Cushing is a quiet, rural, residential town that has a thriving art community and is at the heart of Wyeth country. Made famous by Andrew Wyeth's Christina's World painting, the Olson House is just a half mile down the road from our cottage. Only 20 minutes away is Rockland where visitors can shop and enjoy many fine restaurants, play golf, or hop a ferry to one of the islands.
The Lobster Capital of the World, Rockland has been designated a National Historic District as well. Rockland is home to the world-class Farnsworth Art Museum and Wyeth Center, the Maine Lighthouse Museum, and the Coastal Children's Museum. Also nearby is the not-to-be-missed Owl's Head Transportation Museum. While in Rockland enjoy a walk along the breakwater to the lighthouse, a wonderful way to work up an appetite and to view the windjammers, the island ferries, or the beautiful harbor.
Enjoy all the best that Maine offers by vacationing in the midcoast. You'll see that we are active owners who take pride in sharing our vacation home with others and work hard to provide a clean, comfortable cottage with everything you need for a wonderful stay. We believe you will love it here and want to return time and again.
second picture by Susan Gast